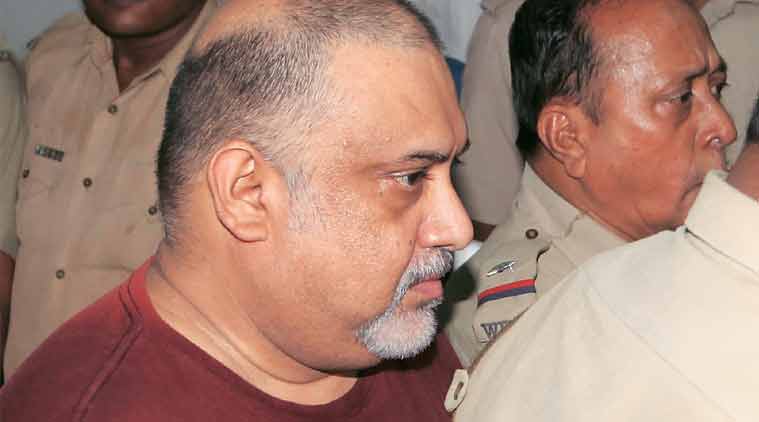 Police take Chattopadhyay into custody. Express Photo
THE arrest on Tuesday of Anindya Chattopadhyay, a councillor of the Trinamool Congress, for allegedly extorting money from a 'relative' of Bangladesh Prime Minister Sheikh Hasina, has put the spotlight on West Bengal's alleged 'syndicate-politician' nexus.
'Syndicate' is a euphemism for extortion rackets that operate in areas of the state that are witnessing a realty boom. Here, cartels of unemployed youths, allegedly backed by the ruling party of the time, use their clout and threat of violence to force contractors to buy inferior building materials from them at a premium.
A bane for the Mamata Banerjee government, it started in 1995, when the Left Front government began acquiring land for the Rajarhat township near Salt Lake in Kolkata. The Land and Land Revenues Ministry had then issued a notice, asking for all land and water bodies in the area to be acquired. This process continued until the late 1990s, as a result of which an estimated 2,50,000 families, mostly poor, landless farmers and fishermen, were suddenly left with no means of livelihood.
Share This Article Related Article
After Didi, Sheikh Hasina chat, TMC man Anindya Chattopadhyay lands in jail
Hours after New Town makes it to Smart City list, TMC factions clash in Kolkata
Kolkata: As 'TMC syndicates clash' in Lake Town, 7 cops hurt in 'sudden ambush'
Mamata's 'Robin Hood' who now finds himself on wrong side of TMC
Kolkata Municipal Corporation elections: In the boomtown, 'syndicates' hold key to pole position — Opp give edge to TMC
Minister's son held 'bribing' witness in land scam
Watch Video: What's making news
With a construction boom round the corner, Left parties, and in particular Gautam Deb, the urban development minister in the 1990s, began a cooperative of about 2,000 people who would supply construction material to real-estate companies. The Trinamool alleges that it was Deb's involvement that turned this cooperative into a large criminal cartel, which came to be known as the 'syndicate'. Deb has consistently denied these allegations. As the Left Front government made way for the Trinamool Congress, the alleged 'members' and 'workers' of the syndicate too effortlessly changed loyalties.
In July 2015, CM Mamata Banerjee announced that she would crack down on the syndicate. Then, with elections a few months away, she had realised how this could be one taint that would be hard for the party to shake off. She wasn't off the mark: in the recently concluded elections, the issue of the 'syndicate raj' was a talking point across the state. So Banerjee's decision to take action against one of her own councillors is neither unplanned nor coincidental. A senior party leader said Chattopadhyay was being made an example of.
"Syndicates thrive in areas that witness a realty boom. Nowhere is it as bad as in the Biddhannagar area that includes Rajarhat-New Town, a posh Salt Lake locality. Chattopadhyay's role in this syndicate was well-known and the message to the party leaders is clear: no one is safe," said the leader who spoke on condition of anonymity.
Chattopadhyay allegedly had his own team of youths — all dedicated party members — who tracked new and upcoming properties in the area and then extorted money from hapless landlords in exchange for the right to supply raw materials. "For everyone involved in these syndicates, this is quick, easy money. Unlike other jobs, the risk is low and the returns are high," said a police source, who added that the councillor was also found to have been using his position to exert additional pressure.
Soon after his arrest, the West Benga…