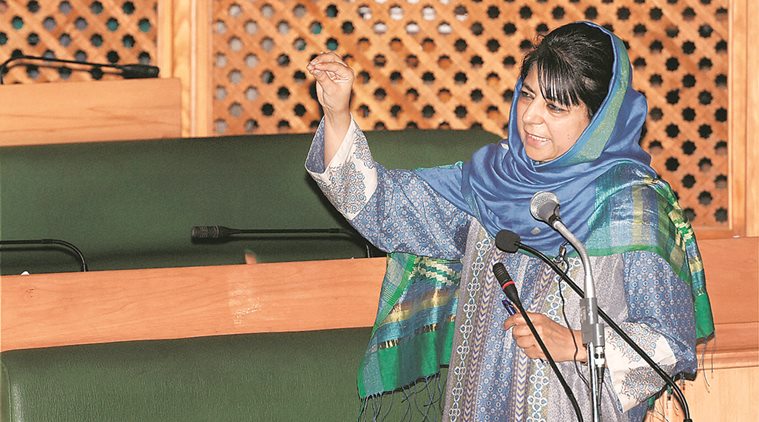 J&K Chief Minister Mehbooba Mufti in the Assembly Thursday. (Source: PTI)
A week after the Jammu and Kashmir Cabinet cleared the introduction of the land transfer Bill in the House, to prevent transfer of land in Jammu to non-state subjects, the Bill was on Thursday sent to the select committee after opposition from legislators of ruling coalition partner BJP.
The opposition National Conference, which supported the Bill and wanted it to go to vote, termed it as "murder of democracy".
Share This Article Related Article
J&K Legislative Council rejects 20% reservation for women in govt jobs
NDA govt pushes through Land bill, but road not smooth ahead in RS
Himachal Assembly adopts resolution seeking withdrawal of Lokayukta Bill 2012
Omar calls for passage of House Tax bill in J-K Legislature
J&K to get three more varsities
Chaos in J-K assembly,2 MLAs marshalled out
Watch Video: What's making news
As the Bill was introduced in the House on Thursday, the BJP legislators demanded its withdrawal. The NC, Congress and some independent legislators favoured the Bill. PDP leader and Revenue Minister Basharat Bukhari then moved a motion and the Bill was sent to the select committee of the House.
The Bill, aimed at plugging holes in the Transfer of Property Act to prevent transfer of land in Jammu to…