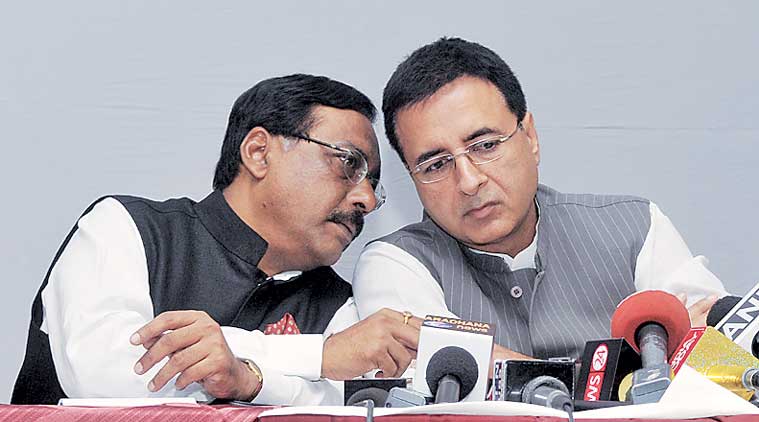 File Photo: Randeep Singh Surjewala (right) with Manoj Jha. (Source: Express photo/file)
Congress on Saturday demanded a white paper on the drug abuse among youth in Haryana, charging the Manohar Lal Khattar government with failing utterly in creating jobs and thereby, pushing youngsters into trap due to its mal-governance and incompetence.
"Mal-governance and incompetence of BJP government has pushed the youth of Haryana in the dangerous web of drug abuse… Khattar government should issue a white paper bringing out the actual position of Haryana's youth, who have been pushed into drug abuse," chief spokesperson of Congress, Randeep Singh Surjewala, said in a statement.
In the wake of reports of consumption of performance enhancing drugs claiming lives of three police job aspirants in the state, the Congress party asked the state government to convene an all-party meeting to discuss the issue and decide strategy in this regard and pitched for taking action against drug mafia concerned.
Share This Article Related Article
Congress attacks BJP government in Haryana over drug abuse
Kamal Nath poll headache in Punjab growing, Congress 'relieves' him
Panchkula: Congress leaders shun meet, expose chinks in city party unit
As Jat quota stir continues, CM Khattar appeals to protesters to maintain peace
Beef for foreigners not so soon: Haryana
Vadra deal: Missing notes will be traced soon, says Khattar
Watch Video: What's making news
Expressing concerns over drug consumption shadowing on-going police recruitment in the state, Surjewala said the Narendra Modi government at Centre and the Khattar dispensation have 'utterly failed' in providing avenues of employment or jobs to the young.
"Not only this (the deaths), thousands are being treated in private hospitals and by private doctors. This proves beyond doubt that the drug trade and drug mafia rules the roost in Haryana under active protection while Khattar government refuses to wake up from its slumber," he charged.
He further claimed that the state government has not given job to even a single youth during its 18-month tenure.
Surjewala also accused the Khattar government of becoming 'willing accomplice' to transfer of an automobile company from the state t…