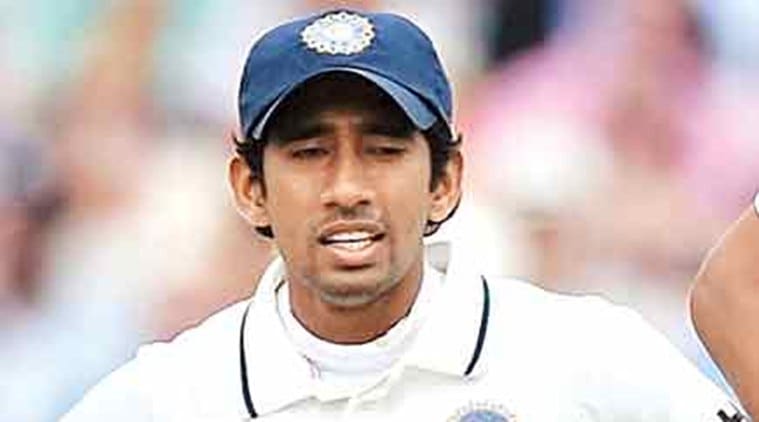 Considered the best wicket-keeper in India, Wriddhiman Saha must also stamp his class with bat.
The former Kiwi wicket-keeper Ian Smith appropriately titled his autobiography 'Just a Drummer in the Band'. The implied sarcasm is all too obvious – wicket-keepers are, like the drummers in a rock band, the loudest on the field, yet the least exalted member of the group, not accorded the acclaim he richly deserves. The guitarists and leading vocals will invariably walk away with all the bouquets, much like the batsmen and bowlers.
Drag them off the field and they can lecture you for hours about the minutiae of footwork, the various properties of different types of inner gloves or that little piece of webbing between the index finger and the thumbs. Wriddhiman Saha is an anachronism on both counts. He is not a high-decibel keeper, he mostly claps his gloves together and occasionally shouts , "shobash".
Equally, you can seldom see him really get unduly thrilled, or manically animated. He isn't either the one the match referee is likely to summon to his room and sermonize on the virtues of not cracking the on-field umpire's ear drums with perpetual appealing. The only time he wears emotion is when he commits a blunder. Or when a ball has closely beaten the edge or missed the stumps by a whisker.
Thrust him with a microphone, he slinks even more into his shell. You literally have to coax and cajole the words out of him. He does open up, but only when you have struck a certain degree of rapport with him and he feels utmost comfortable with (that said, he is not too difficult to befriend) you. Even his smile is a little forced, though that's not out of arrogance. These aren't necessarily his flaws. These aren't even flaws after all. These are rather traits.
But those traits have conspired to paint a self-deprecatory picture of himself, in the sense that the general perception is that he is forever living on the brink (a reason he is always queried about cementing his place in the side), that he is a mere stopgap between the retired MS Dhoni and the next MS Dhoni. Suffice it to say that nearly 16 months after he had retired from Tests, Dhoni's shadow still lingers.
It's a fact that Saha doesn't dispute, a platitude Saha has gotten used to in his brief span as India's first-choice keeper in the post-Dhoni era. Saha might be feeling as awkward as David Moyes after he replaced Sir Alex Ferguson. And he chooses his words carefully when the comparison is bought in.
"To fill up Dhoni's boots isn't an easy task. He played for India for many years, and was a match-winner for India. I will try and reach my potential and help the team, with the bat in vital situations and by taking catches behind the stumps," he said. Lost in those words is the admission he doesn't have a Dhoni-like aura about him – he is not aspiring to be one either – but rather he would strive to optimise his own potential. He would be content if he can "score in the region of 70s or be involved in big partnerships."
Or to orchestrate a late-order rearguard, a responsibility all the more significant due to Kohli's obstinacy with a five-bowler permutation. In Sri Lanka he gave a good account of his understated ability to grit out in emergency, scoring a brace of half-centuries in distress, though he insists he didn't "play to his potential in the series."
Shepherding the lower-order
Though for Bengal he bats in the middle order, he showed he is comfortable at the shepherding the lower-order too. "I feel good batting with the lower order because in that situation the team makes crucial 30-40-50 whatever runs, it is very helpful for the team."
But here Saha is not in tune with changed perceptions of a wicket-keeper's batting utility. The Gilchrists and Sangakkaras and Dhonis of the world – all once in a generation players – have taken the utility-quotient to a higher platflorm. Teams now require game-changers in the role, counterpunchers with the bat who can also pile on the misery at an astonishing rate when their teams are well set.
In this regard, he could fashion himself on the impish Jack Russell. They might be sepearated by a couple of generations, but he embodies the same values the latter had held close to his heart, that feistiness in fighting your guts out, even if that looks banal and unaesthetic, to ride the team through the rough storm. He glosses over his deficiencies with a will to take the tough blows on your face. Like on Tuesday, he was struck flush on the ribs during a throwdown, but without even a twitch or a scowl, he resumed batting as if nothing was amiss.
These are characteristics his skipper has always appreciated. "I really like his attitude. He's a very hardworking cricketer. He's willing to do anything the team requires. He's a brilliant 'keeper and gutsy with the bat," Virat Kohli had said during the South Africa series.
These are characteristics his new coach too would appreciate. Kumble's presence will benefit him on another aspect as well, for having considerably benefited from as competen…