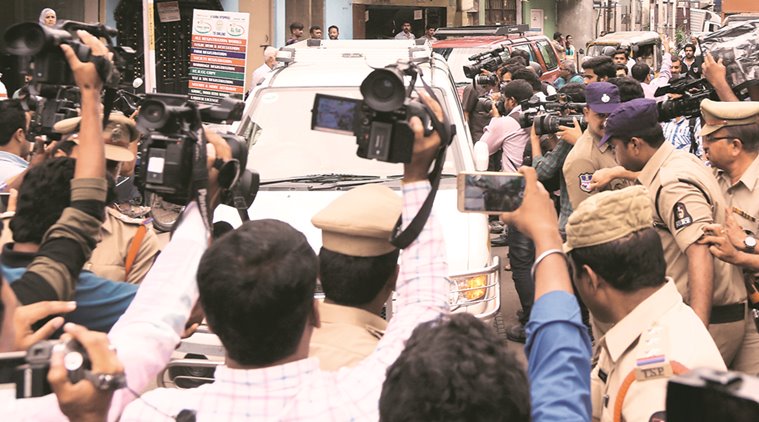 In the car are the five arrested for allegedly plotting attacks in Hyderabad; a court remanded them in judicial custody for 14 days. (Source: PTI)
A visit to the Hyderabad homes of the men NIA picked up for alleged terror plot, 5 of them since arrested, and tracing their backgrounds.
The 5 arrests: 'Bomb expert' brothers and 'kingpin'
Mohd Ibrahim Yazdani, 32
Mohd Ibrahim Yazdani
An engineer. Their parents dead for years, he and his youngest brother (also arrested) were brought up by three elder brothers. After passing out of Anwarul Uloom College of Engineering and Technology in 2003, Ibrahim worked in the Middle East, then briefly in Hyderabad before quitting. Officials say he learnt to create explosives from online manuals. He and his younger brother allegedly accumulated several litres of hydrogen peroxide over three months and bought utensils to prepare the mixtures.
Mohd Iliyas Yazdani, 24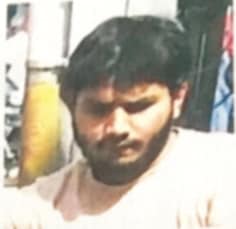 Mohd Iliyas Yazdani
Ibrahim's brother is a computer applications graduate. Like his brother, he trawled the Internet for jobs online. He worked part-time at a Mee Seva centre. He used to visit his brother daily. "Both brothers were jobless and spent a lot of time on the computer. They always kept to themselves, were mild-mannered and never showed any aggressive behaviour," said Parvez, a relative.
Muzaffar Hussain Rizwan, 29
A tenant in the house of Ibrahim Yazdani. He works as a salesman at a shoe shop in Chatta Bazaar, where Ibrahim lives. He moved closely with the Yazdani brothers.
Fahad, 31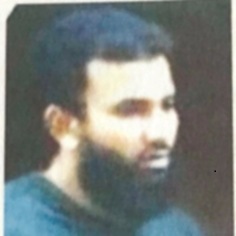 Fahad
A BBA who refits motorcycles at workshops, full name Abdullah Bin Ahmed al-Amoodi. The NIA calls him the brain behind the module who opened channels of communication with IS handler Shafi Armar and was in touch with other handlers in the Middle East. "He won fans with his skills at redesigning bikes. He kept to himself mostly. a quiet guy," a friend said. The NIA says he trained in bomb-making in recent months. Fahad and the Yazdani brothers met at a rented flat on the outskirts of Hyderabad. Fahad also bought hydrogen peroxide and acetone, the NIA says. He is married with a son.
Habeeb Mohd, 32
Habeeb Mohd
Computer science engineer from Kakatiya University, Warangal, lived at Yousuf Gulshan Colony of Chandrayangutta, an area from where at least four youths tried to go to Syria and join IS last year. Habeeb quit as a systems administrator with an IT company and started an Internet café along with this brother Abdul, who is among the 11 picked up but not among the five arrested. The NIA says Habeeb bought two pistols from Nanded, where an NIA official tailed him on two trips. Habeeb also visited Ajmer, allegedly to meet arms suppliers. The NIA says he was scouting for assault rifles. "We are a straightforward, simple family. My sons do not indulge in anything illegal,'' his mother said.
The other 6: A brother, an acquaintance, and a 'mistake'
Abdul, 29
Habeeb's brother, full name Al Jeelani Abdul Qader Mohsin Mahmood, released late Wednesday night. While Habeeb was arrested, Abdul waited outside the NIA office hoping his brother would be released. "The NIA people picked up my brother and me at 2 am," he said. "I was questioned at one place and Habeeb at another. They asked me if I had any connection with IS. I said I have nothing to do with IS or any other such group. They asked me about my family surname, al-Baghdadi, and I explained it has nothing to do with the IS leader, and we have had the surname…