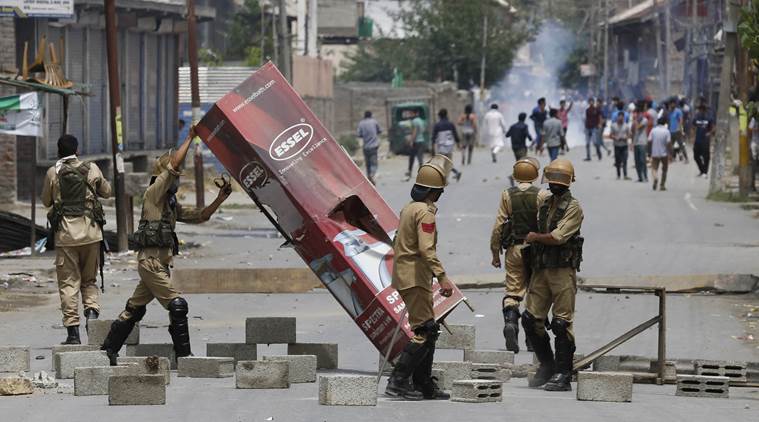 Indian policemen remove roadblock set up by protesters who were reacting to the killing of rebel leader Burhan Wani in Srinagar. (AP Photo)
Mobile Internet services remained snapped in Jammu for the seventh consecutive day on Friday even as the situation in the region remained normal after the killing of the Hizbul commander Burhan Wani in an encounter with security forces last week.
Fearing law-and-order problem, the authorities had snapped mobile Internet services in the entire Jammu region after Wani was killed on July 8.
"Because of Friday we could not hold the high-level security review meeting today, but the administration will hold the meeting tomorrow and the decision to revoke the ban on mobile Internet services in the region would be taken then," Divisional Commissioner Jammu, Pawan Kotwal, told PTI.
Share This Article Related Article
Curfew across Kashmir Valley on Friday
Amarnath yatra remains suspended for second day from Jammu
Kashmir unrest: Rajnath Singh reviews situation, speaks to Mehbooba Mufti
Road, rail traffic hit, Amarnath pilgrims stranded
Kashmir protests highlights: 8 killed, several injured in violence over killing of Wani; Amarnath Yatra to resume soon
Mobile internet services suspended in Kashmir
Watch Video: What's making news
The business community in Jammu says that they are the worst sufferers due to the blockage of the mobile Internet services as the transaction using credit cards and debit cards have come to a halt.
"We are using swipe machines that are connected …