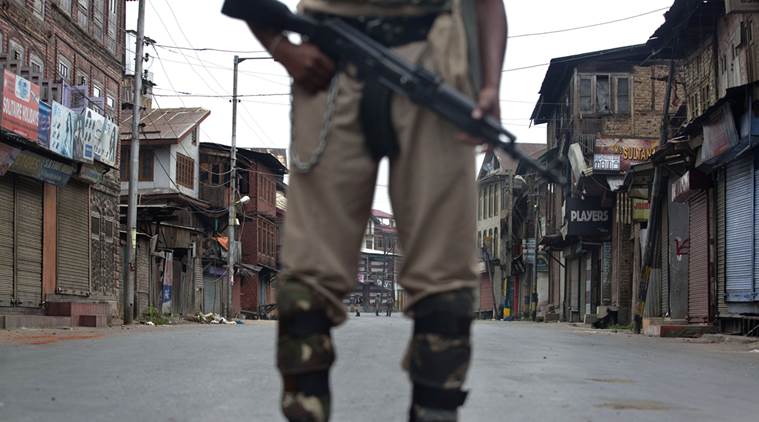 Military soldiers stand guard during a curfew in Srinagar. (AP Photo/Dar Yasin)
Police on Saturday seized copies of major Urdu and English newspapers in the Kashmir Valley following midnight raids on the printing press creating an information blackout as mobile services also remained suspended.
The publishers on their websites have claimed that their print copies were seized and people working for the printing press were also arrested.
"Policemen seized the plates of 'Greater Kashmir' and more than 50,000 printed copies of 'Kashmir Uzma' (Urdu daily) and closed down the GKC printing press," a report on the website of Greater Kashmir said.
Another English daily, Kashmir Reader said, "The posse of police seized the copies of Kashmir Reader."
Share This Article Related Article
Goa Crime Branch raids newspaper, printing press in illegal lottery case
Candidates in Kashmir prefer Urdu newspapers for poll ads
Editor,chairman of pro-Jamaat dailies sued in Bangladesh
Another English daily hits stands in Kashmir Valley
Govt crackdown,copies of Valley's dailies seized
Anonymous pamphlets call Navsari BJP candidate a loan defaulter,bootlegger
"At 2 a.m., police raided KT printing press at Rangreth and detained eight people while seizing copies of Kashmir Reader," the daily reported on Kashmirreader.com.
KT press is one of major printing press in the Valley and prints dailies like Kashmir Reader, Tameel-e-Irshad, Kashmir Times, Kashmir Observer, The Kashmir Monitor, Kashmir Observer, Brighter Kashmir and Kashmir Age.
"When we reached press enclave to collect the copies for …