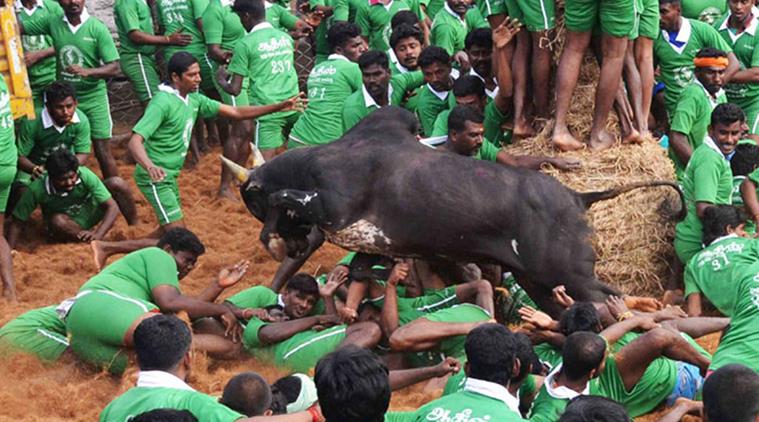 "Reverence for animals, not animal abuse, is Indian culture," said PETA. (Express file photo)
Amid reports that the Environment Ministry may move a Cabinet note to amend a legislation which is likely to allow use of bulls for Jallikattu, People for the Ethical Treatment of Animals (PETA) on Tuesday said the step will make India appear "backward and archaic" in the eyes of the world.
Referring to reports, the animal rights body claimed said the Environment Ministry is set to move a Cabinet note for weakening the Prevention of Cruelty to Animals Act, 1960.
It also claimed the ministry may bring the amendment, which aims to allow the use of bulls for Jallikattu, bullock cart races and animal fights and to allow other abuses of animals, in Parliament as early as in the Monsoon Session.
"Reverence for animals, not animal abuse, is Indian culture. The Environment Ministry's continued attempts to circumvent the Supreme Court verdict against cruelty to bulls and to weaken India's animal protection laws shows it is woefully out of touch with the majority of the Indian public who want animals protected.
Share This Article Related Article
Explained: In Jallikattu, questions of tradition and cruelty to animals
PETA files petition in SC, demands notification on Jallikattu struck down
Elections in Tamil Nadu close, Centre revokes ban on Jallikattu
Lifting ban on Jallikattu is a black mark on our nation
Jallikattu: No clearance given, says AWBI; will move SC says PETA India
'Implement ban on jallikattu'
Watch Video: What's making news
"Attempts to allow cruelty like Jallikattu at a time when countries around the world are banning outdated spectacles like bullfighting and animal circuses makes India appear backward and archaic in the eyes of the world," said PETA India CEO, Poorva Joshipura.
The body said the move comes at a time when citizens have been campaigning for stricter laws to protect animals following the death of police horse Shaktimaan and other publicised cases of animal abuse.
PETA in a statement said the draft bill reportedly proposes that animals currently banned from use in performances shall be allowed to be exhibited or trained as a performing animals in a manner prescribed by religion, by a community, custom or culture.
…