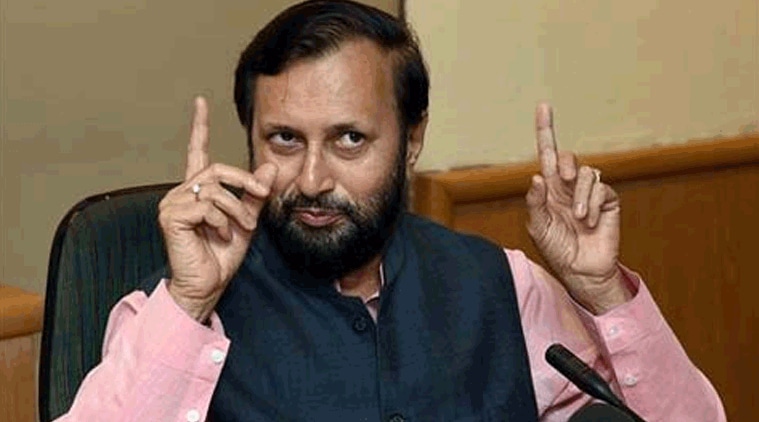 HRD Minister Prakash Javadekar
The prime challenge that the education sector faces in the country is raising the quality of education and ensuring it reaches all, HRD Minister Prakash Javadekar, who took charge, said on Thursday.
"The major challenge that is there in the education sector is to raise the standard. Quality education is vital as it lays the foundation for life and builds overall personality," he told reporters after taking over.
His predecessor Smriti Irani, who has been given the charge of Textiles Ministry, however, did not turn up for the event.
Javadekar said she could not join the occasion because of "family reasons". On Wednesday, he had met Irani, whom he had described as his "little sister" and said he would carry on with the "good initiatives" taken by her.
Share This Article Related Article
Raising quality of education will be top priority: Javadekar
Prakash Javadekar takes charge of HRD Ministry, reacts to Ali Anwar's comment on Smriti Irani
New HRD minister Prakash Javadekar signals change: I am a product of student agitation, talks can calm campuses
Day after cabinet reshuffle, Smriti Irani vows to strengthen textile and apparel sector
Shifting Irani to Textile does not absolve her 'crimes': Kanhaiya on HRD re-shuffle
New HRD Minister Prakash Javadekar asserts education not a subject of party politics
Watch Video: What's making news
The sole purpose of education is not just employment which is a "byproduct", he said.
"The aim of education is to lay the foundation for life on the basis of which societies are created. It is the duty of the education sector and we accept this challenge. Our mission will be to ensure quality education reaches all," he said.
Javadekar, who was flanked by Ministers of State for HRD Upendra Kushwaha and Mahendra Pandey, said that there are ample opp…