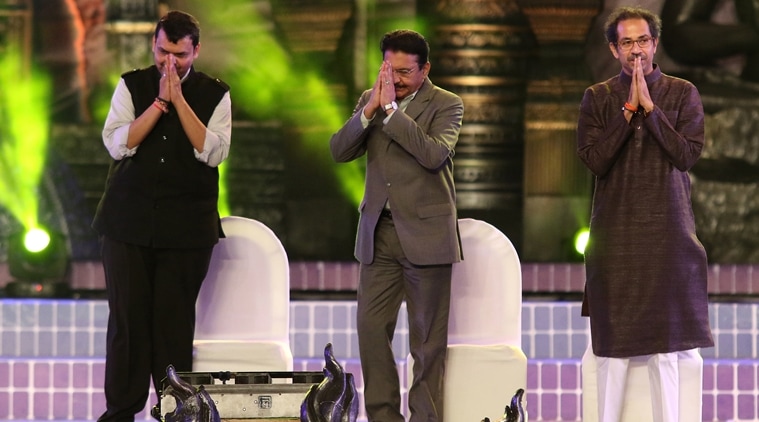 File Photo: Feb 2016, Maharashtra CM Devendra Fadnavis along with Governor of Maharashtra Vidyasagar Rao and Shiv Sena Executive president Uddhav Thackeray during the Maharashtra Rajni program. (Express photo by Prashant Nadkar/file) 
Chief Minister Devendra Fadnavis is set to conduct a cabinet expansion in the state on July 7 and nine ministers are likely to be inducted of which four would be from BJP, three from Shiv Sena and two from smaller alliance partners Rashtriya Samaj Party and Swabhimani Shetkari Sanghatana.
Highly placed sources late Monday revealed, "Fadnavis has decided to induct three ministers from Shiv Sena. It includes one cabinet rank and two minister of state posts." As per the formula, Sena would get only two posts of MoS.
But the additional cabinet rank is BJP's way to mend fences with Sena for being ignored in Delhi, sources said.
Share This Article Related Article
Cabinet expansion, reshuffle likely after Fadnavis's London trip
Chief Minister Devendra Fadnavis likely to go for cabinet expansion soon
Swearing-in ceremony of Shiv Sena, BJP ministers to take place on Friday
Maharashtra: Sena moves closer to joining Devendra Fadnavis govt
Shiv Sena to join Fadnavis govt; gives up claim to home minister, deputy CM post
CM Devendra Fadnavis gears for cabinet expansion next week
Watch Video: What's making news
The additional cabinet rank to Sena is to placate the alliance partner whose demand for a cabinet rank in the Modi government was not conceded.
The Shiv Sena was expecting a cabinet rank in the Narendra Modi government during the ministry expansion on Tuesday. At present it has only one cabinet …