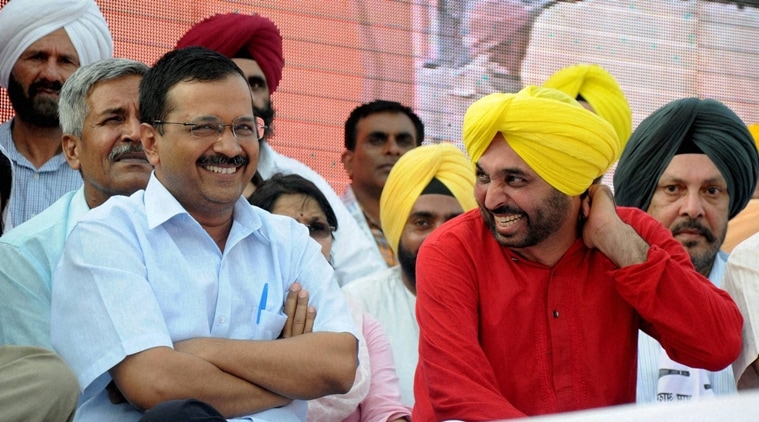 Delhi CM Arvind Kejriwal and AAP MP Bhagwant Mann during the releasing of 51-point Youth Manifesto in Amritsar on Sunday. (Source: PTI Photo)
Aam Aadmi Party chief Arvind Kejriwal hit out at the ruling SAD-BJP combine, alleging they were feeling "jittery" as AAP would sweep the 2017 Punjab assembly polls and have stooped to hatch a "conspiracy" to defame the party.
Kejriwal, who released a youth manifesto, also quoted a survey claiming it showed that AAP would win 100 out of 117 assembly seats in the state polls.
"Seven months are left for Punjab polls and the Badals have started playing a dirty game. It becomes necessary to tell people how low the SAD-BJP government can stoop," he said addressing a public meeting here this evening during his three-day tour to the state.
Share This Article Related Article
Badals have become desperate: Arvind Kejriwal
Holy book desecration: 'Jittery' SAD-BJP trying to implicate us, AAP will sweep 2017 Punjab polls, says Kejriwal
AAP will win 100 of 117 seats in Punjab: Arvind Kejriwal
Kejriwal to start 3-day tour of Punjab starting tomorrow
AAP's youth manifesto to be released on July 3 at Amritsar
Punjab polls: AAP, Congress begin poster wars
Watch Video: What's making news
Referring to one of the arrested accused in the sacrilege incident in Malerkotla on June 24, the Delhi Chief Minister claimed that Punjab government (police) had earlier said he belonged to Vishwa Hindu Parishad (VHP).
"Punjab government had said Vijay Garg belonged to VHP. They continued to maintain that he belonged to VHP till July 1. But on July 2, they said he did it (act of sacrilege) at the behest of AAP. Why? Because Kejriwal was to visit Punjab on July 3," he said.
"All in Punjab know that AAP is going to win (polls) in the state and win with a good majority," he said, adding, "The Badal government is on its way out."
"Now they will indulge in such dirty tricks…a big conspiracy has been hatched and now they are trying to implicate AAP in this," he said.
Without naming any party, Kejriwal said, "Everyone knows that there is only one party in entire India whose politics is based on religion. And to defame us, they have hatched this conspiracy."
"They threw ink on me, slapped me, but I remained silent. But I want to tell them that if you desecrate holy Guru Granth Sahib, holy Quran and other religious scriptures, then we will give them a befitting reply. People will not tolerate it. People will not tolerate this conspiracy," he said.
"I am pained that to defame us, they indulged in desecration of religious books. If they wanted to defame us, they could have done anything else," he said.
Punjab Police have booked AAP MLA Naresh Yadav in connection with the alleged sacrilege incident in Malerkotla.
"Who is Vijay? He is a puppet. When our AAP government is formed, we shall send those people to jail who were behind Vijay," he said.
"Those who desecrated Quran and Guru Granth Sahib (last year) will be punished once our party forms government," he said.
Kejriwal said a true Hindu is one who respects other religions like he respects his own.
"I want to appeal all Punjab police officers that they must listen to their conscience and work according to that… Don't listen to Badals, they are on their way out," he said.
"Rumours are being spread that if AAP comes to power, it will stop welfare schemes like Atta Dal. But I want to tell people that whatever poor of Punjab are getting, that will continue and I also want to assure that nothing of that sort will happen as is being speculated. In fact, more will be given to the poor and weaker sections," he said.
"It is also being said farmers' power subsidy will be withdrawn, this is also untrue. Farmers will be given more subsidy," he said.
Another rumour being circulated is that reservation will be discontinued. "In fact it is BJP which is against reservation and not AAP," he claimed.
Kejriwal accused SAD, BJP and Congress of joining hands to not allow AAP to win the upcoming assembly polls.
"A meeting between top leaders of BJP and Congress took place. And they have decided that BJP, Congress and Akali Dal should join hands to contest polls so that AAP does not form the government," he claimed.
Notwithstanding the Election Commission's warning during last year's Delhi Assembly polls, he asked people to accept money from BJP, Congress and SAD during the polls but vote only for AAP.
"Some people are saying that Akalis are distributing money to buy votes. They will come to you. You take money from them. Don't refuse. This is your money. You also take money from Congress and BJP. But you vote only for AAP," he said.
The poll panel had taken a serious view of Kejriwal's comments and asked him to desist from repeating it failing which it had warned of action.
Kejriwal said earlier he was of the opinion that he should not bring up the sacrilege incident on the occasion of the release of AAP's youth manifesto.
"But then I thought it was extremely important to expose the obnoxious…