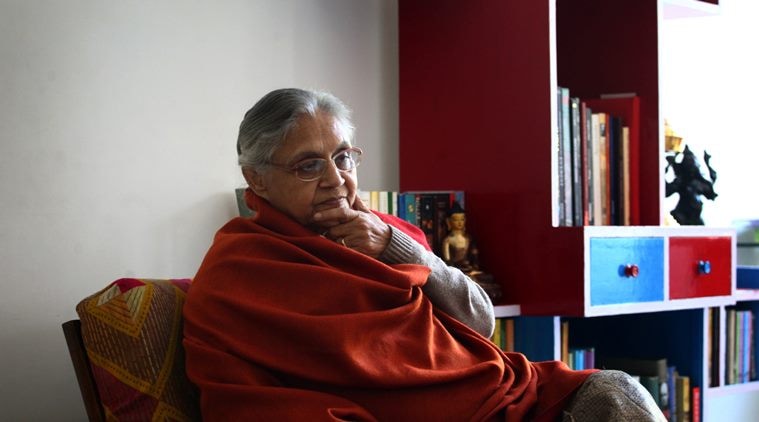 Sheila Dikshit at her residence in Nizamuddin East in New Delhi (Express photo by Oinam Anand)
Reacting to Sheila Dikshit's appointment as Congress' chief minister face in Uttar Pradesh, the BJP on Thursday said that the move would not have any impact on their prospects in the state's electoral battle.
BJP's Shrikant Sharma said the Congress does not have any presence in the state and accused them of being hand-in-glove in the corrupt practices during successive Samajwadi Party and BSP governments in Uttar Pradesh.
"Earlier there were discussions that Rahul Gandhi would be projected, then Priyanka Gandhi Vadra's name came up, but now they have projected Sheila Dikshit. Congress doesn't have presence in Uttar Pradesh. Congress kept supporting successive corrupt governments in the state," he said.
"The state is in bad shape, law and order is bad, education system is crippled, there is no water, electricity or proper roads. The state needs a change. BSP and SP looted the state with the help from Congress," he added.
Share This Article Related Article
Sheila Dikshit named Congress UP CM candidate
Sheila Dikshit, the leader whose Delhi success Congress wants to project in UP
Congress picks Raj Babbar as UP state chief, quiet on Priyanka Vadra role
I am ready for any role; time running out for Congress: Sheila Dikshit
Bolt from the blue for Dikshit,stares at uncertain political future
Exit polls,surveys predict BJP's win in Assembly elections
Watch Video: What's making news
Dikshit's choice for the top post comes amid speculations that Prashant Kishore, who has been roped in as the party's poll strategist for Uttar Pradesh, is of the view that a Brahmin face should represent the Congress in the politically crucial state.
Dikshit is the daughter-in-law of prominent Congress leader from Uttar Pr…