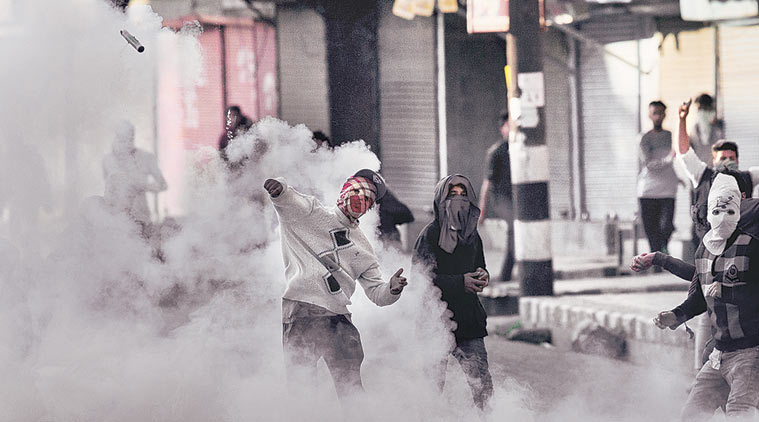 The shaky calm in the capital city helps the government to gloss over the situation.
The current phase of militancy in Kashmir is predominantly local. Unlike earlier, majority of the active local cadres of both Hizbul Mujahideen and Lashkar-e-Toiba haven't crossed the Line of Control for arms training, they are instead either self-trained or given basic training in the Valley. Srinagar and adjoining Budgam are the only districts with negligible militant presence or local recruitment, and this shaky calm in the capital city helps the government to gloss over the situation.
A confidential document mapping the current militant demographics in Kashmir, accessed by The Indian Express, shows that militants operating in South Kashmir, currently hot, are predominantly local, and Hizb commander from Tral, Burhan — who has become a poster boy of new indigenous militancy — heads only one such local module.
While Hizb doesn't have any non-local militants in its ranks, Lashkar, whose operations are run by Pakistanis, has also shifted to local cadre, especially in South Kashmir. Except Lashkar commander Abu Dujana, based in Pulwama district, his group is entirely formed of local cadre in Kulgam-Shopian-Anantnag belt. Dujana, sources say, took over after Lashkar's commander Abu Qasim was killed. Sources say another Lashkar commander, Abu Musa, is also in the Valley, and the group is trying to strike installations in Srinagar city.
Share This Article Related Article
What Abu Qasim's killing means for militancy and the Lashkar in Valley
We have to be conscious that (ISIS) is luring youth: Lt Gen Subrata Saha
Resurgence of home grown militancy surprises security agencies
J&K: With change in command set-up,HM takes centrestage
Vanishing from the Valley
119 militants active in Kashmir,lowest in 20 years
Watch Video: What's making news
According to the report, foreign militants, especially those belonging to Lashkar, are concentrated along the LoC in Kupwara district. Though the militant numbers fluctuate because of fresh infiltration and local recruitment, the agencies seem to have mapped the presence and area of operation for 179 militants in all districts except Bandipore.
While South Kashmir districts and the areas along the LoC in Kupwara have become active theatres, the Baramula-Sopore-Bandipore-Ganderbal belt is silent despite substantial militant presence.
* In Kulgam and Shopian districts of South Kashmir, there are 28 militants, 14 each of Hizb and Lashkar —and all local. Hizb's local cadre Pir Shahnawaz, Zahid Mir, Ishfaq Thokar, Zenat-ul-Islam, Irfan Sheikh, Irfan Ganai operate in a group within the districts. Another Hizb unit, Altaf Dar, Muzzamil Dar, Hilal Wani, Farooq Bhat, Umar Mir and Ishfaq Itoo of Yaripora and Asif Khanday operate in Daccen, Redwani, Qaimoh to Keller Zampathri.
The Lashkar cadre too is local. Its militants, Mushtaq Mir, Adil Malik, Wajid Dar, Umar Ganai, Gulzar Padder of Takiya Gopalpora, sources say, operate across the districts including Kulgam town. Similarly, Lashkar cadre Junaid Matoo, Mudasir Tantray, Tawseef Sheikh, Majid Zargar are all locals.
Another Lashkar module also has local cadre — Abbas Sheikh, Rahul Amin Dar, Wasim Shah, Saddam Padder, Farooq Bijran.
* There are 29 militants in Pulwama district. Everyone, except Lashkar commander Abu Dujana, is local. Hizb has 21 militants while Lashkar has eight in Pulwama.
Hizbul Mujahideen's Burhan Wani leads a group which includes Zakir Bhat, Parvez Dar, Mohammad Salleh Akhoon of Arampora Awantipora and Aqib Bhat and Sabzar Bhat of Tral. Sources say they operate between Tral, Awantipora and Panthachowk. Hizb's Showkat Mir of Rajpora, Saifullah Mir of Malangpora, Irfan Sheikh of Tahab in Pulwama, Umar Fayaz Lone, Zahid Bhat, Ishaq Bhat, Shakir Dar of Tral also operate in Tral-Kakpora area.
Another local Hizb unit, sources say, consists of Arif Nabi Dar and Ayoub Lone of Lelhar, Pulwama, Reyaz Dar, Shafi Sheergogree of Kakpora, Pulwama, Jahangir Ganai alias Jana of Koil Pulwama, Sameer Bhat alias Tigar of Rajpora, Pulwama.
Lashkar commander Abu Dujana, sources say, operates with the local cadre, Showkat Tak alias Huzaifa, Reyaz Naikoo, Lateef Dar, Adnan Lone of Awantipora and Shabir Dar of Samboora, Pulwama. They operate around Tral, Khrew, Awantipora etc. A Lashkar militant, Ajaz Reshi of Samboora, Pulwama is called Maj Karatay.
* There are eight militants, all locals, in Anantnag, six among them are with Hizb. The report says that Hizb's Aamir Nabi Wagay, Abid Sheikh, Masoom Shah and Aadil Reshi operate in Srigufwara area while Bashir Lashkar and Sartaj Sheikh operate in Kokernag.
* Sources say there are 68 militants in Kupwara district, one of them local. Lashkar has 61 foreign militants while four HM militants are still unidentified. Sources say Lashkar's Usman alias Pathan Bhai and four unidentified foreign militants "move between Lalpora and Kalaroose area". Another Lashkar commander Chota Fahdullah with four unidentified militants are in Lolab. Musaib from Muzaffarabad, Abu Bakar of Sialkot and four unidentified militants have recently infiltrated. Nine freshly infiltrated unidentified militants are "operating in KV Ridge..and roam around Dever, Dardpora forests …in Lolab".
* A Lashkar group consisting of Umar Bhai, Fahdullah and five unidentified militants are operating in Handwara area while Naddem, Rizwan and another unidentified militant are in Vilgam area. The only local Lashkar militant, Parvaiz Wani of Guloora Handwara, is operating in Kralgund area. Lashkar's Samana, Qutaiba, Abu Sufiyan and four unidentified militants are operating in Vilgam area.
* Eleven unidentified militants, recently infiltrat…