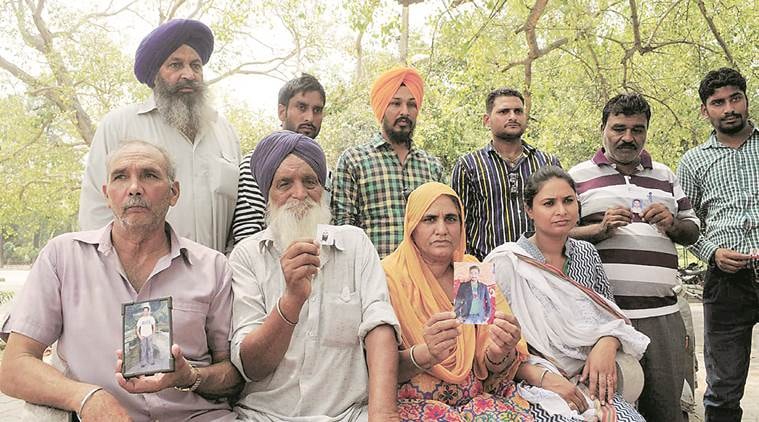 Relatives of some of the missing persons during a press conference in Amritsar on Sunday. Express photo by Rana Simranjit Singh
In a bid to find out the whereabouts of the 39 youths missing in Iraq for the last two years, their families are seeking an appointment to meet Prime Minister Narendra Modi when he visits Chandigarh on Tuesday to mark Yoga Day.
On Sunday, the families even threatened to protest if they were denied permission to meet the Prime Minister.
"Earlier, External Affairs Minister Sushma Swaraj would meet us and hear our concerns. But of late she has also stopped responding. We have been repeatedly trying to meet PM Narendra Modi for the last few months and have tried every possible means of communication to get in touch with him," claimed Gurpinder Kaur, whose brother Manjinder Singh is one of the youths abducted by the Islamic State (IS) in Iraq.
She went on to say, "PM Modi is coming to Chandigarh Tuesday for Yoga Day and we will be going there to meet him. I have been trying all channels. We will try every possible means to meet him."
Clarifying their stand, Kaur said, "Our first priority is to get an appointment (with Prime Minister Narendra Modi). Failing to do so, we may protest."
"I have also been trying to get an appointment from the Chief Minister Parkash Singh Badal for the last 15 days," Kaur added. "I made several calls to his office and have even contacted all officials concerned to get an appointment. But now, I have stopped trying as they have …